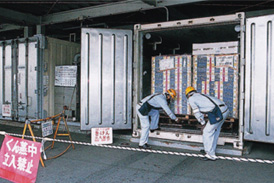 Wakayama-Shimotsu port took a important role as one of the key-ports for importing raw woods from overseas into Japan where we have been engaging the fumigation works in the vessel holds or in the land tent as the raw wood cargo handling specialist.
We became a expert company of the fumigation through a long experience history.
Our expert staffs is also engaging at the fumigation facility in Kansai International Airport (KIX) where they are taking important role of plant/food fumigation works to destroy noxious insects that is the essential procedure on the importation of a fresh vegetables, fresh fruits, flowers, and a plant with a beautiful leaves and etc.